Tonia started out as a business major, but was drawn to psychology because of how her curious nature led her to explore the best ways to connect with people. Her gift of the gab and love for listening to others' stories made psychology a perfect fit.
Tonia enjoys offering the beautifully wrapped gift of a safe place for others to express their unpredictable and genuine sincerity, truly hearing what they have to say. Providing stabilization through information is her core value, no matter the topic or the challenge you might be facing. She is passionate about ensuring you feel safe and supported knowing that you have someone in your corner. Having someone you can safely talk to is a universal and often unspoken need and Tonia wants to make it easier and more accessible for you to ask for help.
Working with Tonia is a true partnership with the goal always being the best outcome for you. She will provide a welcoming space for an open conversation that offers solutions that can lead to better understanding, better wellness and a better you. You'll have the ability to draw upon her wealth of experience working with varied populations, environments and organizations.
Tonia has a background in fitness, exercise and dance.  Movement and its healing effects has always been her passion.  She's trained in modern dance and is a huge sports fan.
Favorite Feel Good Activities
Going to my favorite NFL team football games, running outside at the turn of fall season and watching the sunrise over the water.  I guess that's activities but these are all first place.
Personal Mantra
To thy own self be true.

Shakespeare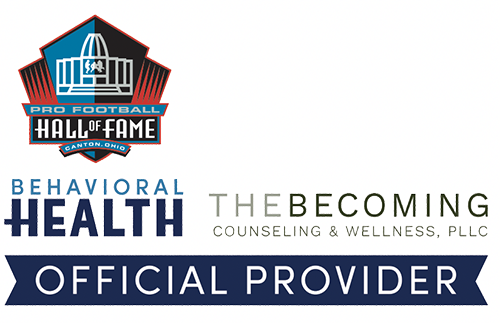 Tonia is one of a select few therapists who is an official provider for Hall of Fame Behavioral Health through The Becoming. An affiliate of the Pro Football Hall of Fame, Hall of Fame Behavioral Health is providing a comprehensive solution for mental health, behavioral health, and substance use issues for all athletes, their families, veterans, and beyond.
Book a Therapy Session with Tonia
Interested in talking it out? Click the button below to see if Therapy would be a good fit for you, and book your session.
50-minute Session: $175
Book with Tonia