January 20, 2022
Events | Mental Health
I will never forget the feeling. I was sitting in the bathroom of the hospital room in a postpartum haze. I could hear my husband and the nurse talking jovially in the other room as they discussed discharge instructions for my newborn baby girl. I was quietly sobbing in the bathroom as hormones and fear took over. I didn't want to leave the safety of the nurses and care team to attempt to keep this child alive. Alone. I had absolutely no clue what I was doing. 
In the years after college, my big group of friends became career oriented, moved to different cities and ran in new circles in our 20's. We saw each other occasionally at weddings as we started to marry, and at couples' Christmas parties. At the end of our 20's, we all started finding out we were pregnant within months of each other. The baby showers started and we all gathered and shared the excitement and nerves for what we were about to experience. The birth announcements via group text came and conversations about bottles and breastfeeding commenced. We were all simultaneously experiencing this new version of our lives, and all simultaneously experiencing the overwhelming need for connection and support. There was an unexplainable need we had for each other. We started Friday "play dates" while our babies laid (sometimes) quietly in our arms as we discussed and connected over the nuances of motherhood. As I went back to work, I found myself requesting Fridays as a work from home day with my daughter just so I could continue these play dates with these friends in the same stage of motherhood as me. I couldn't imagine getting through my weeks without them.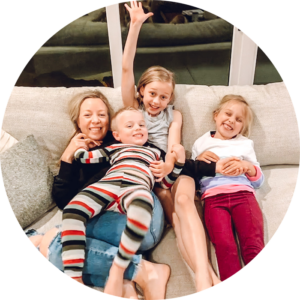 Life Coach, Christa Booker with her kids.
I cannot begin to describe the importance this group of women has held for me. We are now almost 11 years in, and the experiences we have had together have formed a bond that I never knew was possible. There have been incredible times like holidays, birthday parties, first days of school, adoptions and births of 2nd, 3rd and even 4th babies. We have had Monday night mommy dance parties, lunch dates, Christmas parties, birthday celebrations, and even a girl trip to Vegas. We have also experienced tears over kindergarten, kiddo broken arms, behavioural issues, car accidents, marital problems, cancer diagnosis, the death of parents and even the death of one of the children. And through it all we were all just there – for the good, bad and ugly. 
Throughout the years things have changed. We all have evolving careers, kid sports, new friends and different life paths. Some relationships grew stronger, some grew apart. We still share the occasional group text, lunches and celebrations. We are all busy with life. But on the occasional times that we are able to get together, it is like no one has missed a beat. This group of women will forever take up real estate in my heart and will always be a gift that I never knew I needed, but I am immensely grateful for.  
Whenever a new mom asks me for advice, I always say the same thing. Find some other moms to connect to. Ideally find the group that shows up with messy hair and tear streaks that will be truthful about how hard and beautiful the role of motherhood is. The support and compassion of another mom is invaluable and priceless.
You actually DON'T have to do it alone. 
The content of this blog is for educational purposes only. It is not a substitute for a therapeutic relationship.
---
Starting September 20th, we are offering a 7-session Moms Group Series with Christa. Feel free to show up with messy hair and a tear streaked face if that is where you are.
We will be guiding you through discussion topics such as parental burnout, perfectionist parenting, and much more. Most importantly, we will just be there for you to hold space – for the good, the bad and the ugly.